Australian Resources and Energy Group AMMA congratulates member Fortescue Metals Group (Fortescue) on official sod turning at its Eliwana Mine and Rail Project in the Pilbara, Western Australia.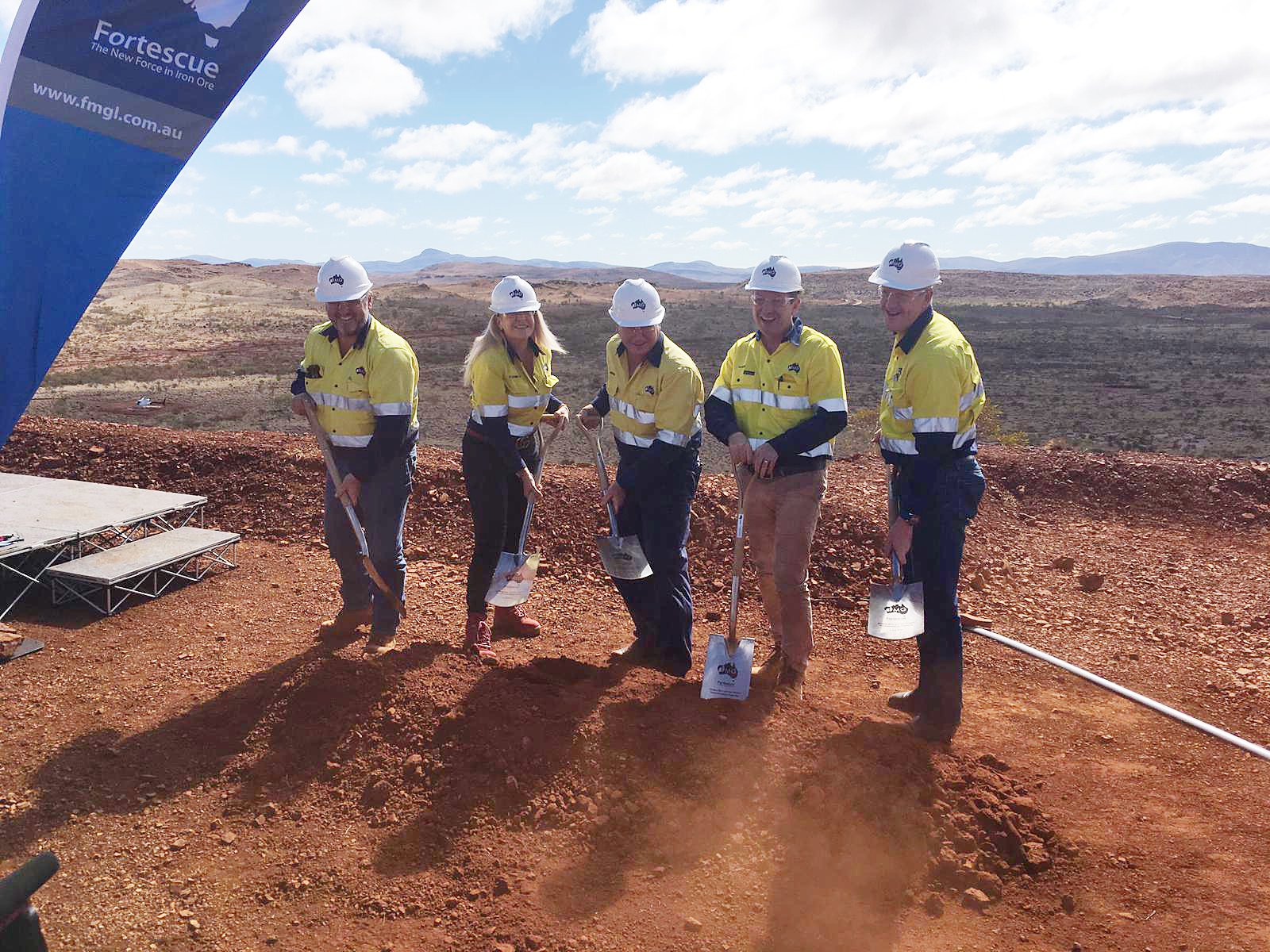 Founder and Chairman, Andrew Forrest AO, was joined by the Premier of Western Australia Mark McGowan, Fortescue Chief Executive Officer Elizabeth Gaines and the Company's Core Leadership Team, to mark the milestone on 5 July.
The US$1.275 billion project includes the construction of 143 kilometres of rail, a new 30mtpa dry ore processing facility (OPF) and infrastructure. First ore on train is expected in December 2020.
The project paves the way for up to 2,400  jobs, with 1,900 jobs during construction and 500 full-time site positions once operational.
"This is a proud day for Fortescue as we celebrate the largest project since the Kings Valley mine in 2014," Mr Forrest said.
"Since Fortescue was founded 16 years ago, we have held community and family at our core and continued to deliver on our commitment to be the safest, lowest cost company.
Mr McGowan said Eliwana will create significant opportunities for Western Australian workers.
"It's great to see a strong local content component, with many Western Australian companies awarded contracts to carry our important works, including steel fabrication," he said.
Fortescue's Eliwana development supports WA owned and Aboriginal businesses
Fortescue also announced contracts to the value of A$330 million to date have been awarded to more than 250 Australian business entities as part of the Eliwana Mine and Rail development, of which 80 per cent are Western Australian owned businesses. As further approvals are progressed, it is expected over A$500million in additional contracts will be awarded by the end of 2019.
At the turning of the first sod of the Eliwana Mine and Rail project,  a joint venture contract between the Puuti Kunti Kuruma Pinikura (PKKP) Enterprises Pty Ltd and Action Industrial Catering was also announced for the catering, administration and general village services at the Eliwana fly camp.
This follows the early mine earthworks contract to Jilpanti Enterprises, a 100 per cent Aboriginal-owned business, as part of a joint venture with Cross Verwijmeren. Fortescue is also working with Muntulgura Guruma Pty Ltd, a 100 per cent Aboriginal owned company, to carry out the access and enabling earthworks to support the Eliwana Rail development.
Fortescue's industry leading Aboriginal procurement initiative, Billion Opportunities, recently reached A$2.3 billion in contracts awarded to Aboriginal businesses and joint ventures since the program began in 2011.