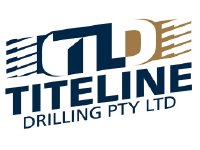 Titeline Drilling Pty Ltd was formed 10 years ago and has become a leading mineral exploration drilling contractor in Australia. Titeline Drilling services all parts of Australia from its fully equipped workshop and administration facilities in Ballarat.
Titeline Drilling is a high quality, progressive company, which is known for its professionalism in the most demanding environments.
Founded and managed by directors with professional international drilling experience, and a terrific safety record that speaks for itself.
A world-class company that continues to grow with committed staff, providing high quality services to the resource sector.
All Titeline drills and support equipment are late model and meets with mine site safety standards. Includes modern, self-contained remote camps, first class communication systems, all-wheel drive vehicles, mobile rig office, rod sloops (jack up) and lighting towers.
Titeline prides itself on delivering the safest and most cost effective exploration drilling throughout Australia, with certified field based supervisors, OH&S, drillers and offsiders.
Titeline's equipment is backed up with a full time office base maintenance manager and on site fitters, in conjunction with our state of the art QSE system for automated service reporting and maintenance history. We can deliver a 'high rig availability' drilling service that meets with all exploration and mine site drilling expectations, on time and on budget.