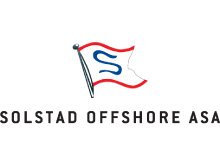 SOFF's activities are aimed 100% towards the offshore petroleum industry. Most of the fleet of vessels is equipped to carry out projects well above the traditional supply and anchor handling services. In addition to strong international growth, the Company has focused on offering Construction Service Vessels (CSV) and equipment for use in connection with offshore installations, including installing, monitoring and maintenance of sub sea systems. Simultaneously, the Company has expanded and modernized its tonnage of Anchor Handling vessels (AHTS), particularly for use in deep waters. Currently approx. 1300 people are employed by the Solstad group.
Our fleet consists of 49 fully owned/jointly owned and leased vessels plus 1 vessel under construction. 40 of the vessels are operated from the main office in Skudeneshavn and the branch office in Aberdeen.
The Company's new builds in Norway, which include 1 LNG PSV, emphasize the continued focus on the construction service market as well as drilling and development in unsheltered and deep waters.
Through the of NOR Offshore, SOFF is focusing on the Asian and Australian markets. NOR Offshore was established in March 2005 and has a fleet of 10 vessels, five of which are operating with a somewhat higher specification than is traditional for this market. Due to the acquisition of NOR Offshore in Q2 2011, the company will now change name to Solstad Offshore Asia Pacific.
In 2007, NOR ordered a Derrick Lay Barge (DLB) with lifting and pipe laying capacity. The DLB is equipped with a 1100 ton crane, pipe laying equipment and comprehensive cabin capacity. The aim of this investment is to be a player in the construction market in Asia and Australia.