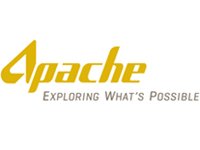 Apache's growth and progress results from a diverse team of committed people who share values of integrity, hard work and respect for others.
Our Mission
Our mission is to grow a profitable global exploration and production company in a safe and environmentally responsible manner for the long-term benefit of our shareholders.
Our values
Throughout our 60 years in the oil and gas industry, Apache has built a team unified by our values, our commitment to building shareholder value and our culture, which empowers every employee to make decisions and achieve the company's goals. Our global team is brought together by a sense of ownership and the knowledge that best answers win. Our core values are:
Expect top performance and innovation;
Seek relentless improvement in all facets;
Drive to succeed with a sense of urgency;
Safety is not negotiable and will not be compromised;
Invest in our greatest asset: our people;
Foster a contrarian spirit;
Treat our stakeholders with respect and dignity;
We derive benefit from the Earth and take our environmental responsibility seriously; and
Conduct our business with honesty and integrity.